Welcome to the APMP UK!
APMP UK is the UK chapter of the 'Association of Bid and Proposal Management Professionals' which is the body that defines and supports best practice in the areas of bids, proposals and business acquisition.
As a group of like-minded professionals and companies, we promote and share proven techniques, tools and experiences with and amongst our membership.
We hold regular friendly networking events covering interesting and relevant subjects from how to engage with current procurement practice, to the art and science of pitching. Come and hear what we have to say.
UK Chapter Awarded
by APMP
APMP UK are delighted to be recognised again for achievements in the last 12 months. Four APMP awards were presented to the UK chapter recently at the Annual Awards Dinner in Chicago and these were:
International Chapter of the Year
Best Events Programme
Best Global Membership Growth
Most New Corporate Organisations


Upcoming events:
click to open/close
Getting off on the right foot - November 20th 2014
Invitation to attend the APMP UK November Edinburgh event with speakers:
Karen Althen & Mark Whelan, Phoenix IT Managed Services Ltd presenting :
Getting off on the Right Foot:
How planning and preparation contributes to high quality bid dialogue


Bid teams must engage with customers in an increasingly varied way, ranging from traditional written submissions to interacting via attended sessions and conference calls. The differing requirements and maturity of buyers requires an agile and scalable approach - achieved thorough careful preparation, planning and execution.
How do you assess and submit formal questions while protecting your competitive advantage? How do you gain the trust and interest of buyers and achieve relaxed and productive dialogue? Karen Althen and Mark Whelan will lead delegates through written and attended forms of bid process engagement, from the formality of public sector to the less formal RFP.
An interactive workshop: discover techniques that will give you the confidence to turn all of your customer engagements into successful encounters

Info + Tickets
New 2014 Procurement Rules and How They Affect You - 24th Nov
Andy Haigh & Peter Lobl, Sixfold International Ltd presenting:
New 2014 Procurement Rules and How They Affect You

New procurement directives - passed at the beginning of 2014 and due to be incorporated into UK law over the next few months - will make some fundamental changes to the rules governing the conduct of public sector bids. To maximise your chance of winning, you need to know:
what the changes are
how they will affect the bids you are involved in
how to turn the new rules to your advantage - or to neutralise them if they may put you at a disadvantage.
With plenty of examples and valuable insight into the potential influences and effects of the rule changes, Andy Haigh and Peter Lobl will walk us through some of the detail in a way we will find easy to assimilate. There will be a light-hearted TEAM QUIZ at the end, just to make sure we've all been listening, so it's fingers on buzzers - with winner and booby prizes! Anyone working in the public sector bid arena needs to be up to speed on these new rules.

Info + Tickets
Annual Christmas Dinner - 4th December 2014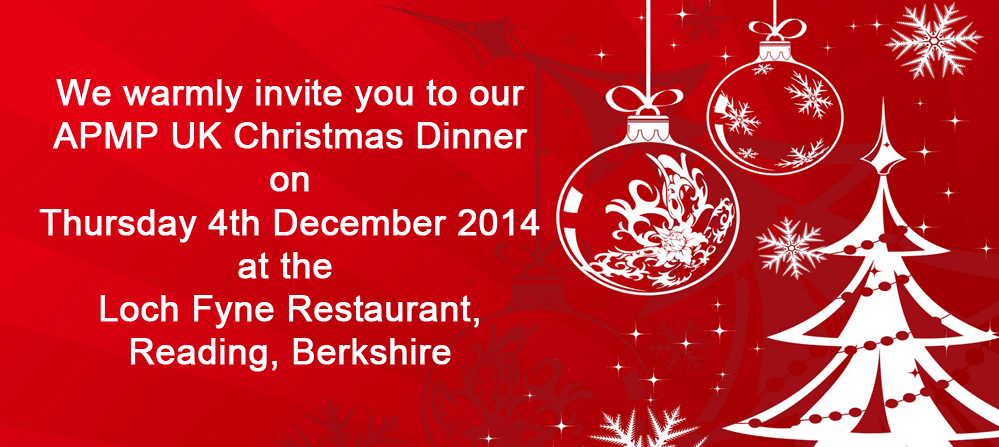 Join our seasonal social and networking evening and enjoy all the ingredients of a great Christmas celebration!
Arrive at 6.00pm for drinks and networking with a complimentary glass of Prosecco Kir Royal, Prosecco or soft drink before sitting down at 6.45pm for a sparkling, three course festive dinner in excellent company!
Loch Fyne's great menu is listed below with your menu choice required when booking. We will be served in a semi-private dining area upstairs, overlooking the water.

Book soon to secure your place! TICKET PRICE IS £25.65 (excl. VAT and fees) until 1st November and thereafter £28.50.
We look forward to welcoming you and enjoying a fantastic evening,
Info + Tickets
Presentation slides and member reviews from many of our past events are available here: