Welcome to the APMP UK!
APMP UK is the UK chapter of the 'Association of Bid and Proposal Management Professionals' which is the body that defines and supports best practice in the areas of bids, proposals and business acquisition.
As a group of like-minded professionals and companies, we promote and share proven techniques, tools and experiences with and amongst our membership.
We hold regular friendly networking events covering interesting and relevant subjects from how to engage with current procurement practice, to the art and science of pitching. Come and hear what we have to say.
UK Chapter Awarded
by APMP
APMP UK are delighted to be recognised again for achievements in the last 12 months. Four APMP awards were presented to the UK chapter recently at the Annual Awards Dinner in Chicago and these were:
International Chapter of the Year
Best Events Programme
Best Global Membership Growth
Most New Corporate Organisations


Upcoming events:
click to open/close
Annual Christmas Dinner - 4th December 2014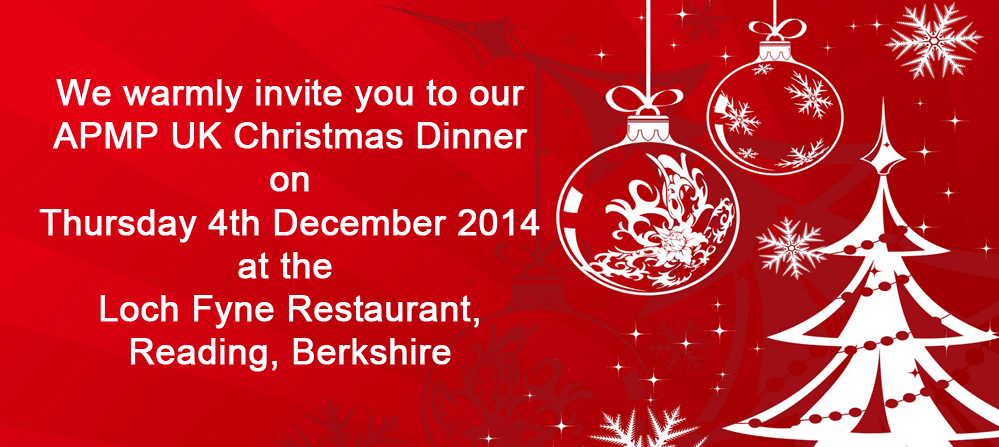 Join our seasonal social and networking evening and enjoy all the ingredients of a great Christmas celebration!
Arrive at 6.00pm for drinks and networking with a complimentary glass of Prosecco Kir Royal, Prosecco or soft drink before sitting down at 6.45pm for a sparkling, three course festive dinner in excellent company!
Loch Fyne's great menu is listed below with your menu choice required when booking. We will be served in a semi-private dining area upstairs, overlooking the water.

Book soon to secure your place! TICKET PRICE IS £25.65 (excl. VAT and fees) until 1st November and thereafter £28.50.
We look forward to welcoming you and enjoying a fantastic evening,
Info + Tickets
Presentation slides and member reviews from many of our past events are available here: